"You Will Pick Dead Bodies If You Protest Tomorrow" – Says Oyo State Commissioner Of Police To UI Students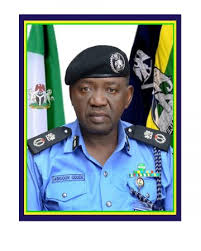 Barely three months after his appointment as the Commissioner of Police of Oyo state, Mr Abiodun Odude, has been caught in what appears to be a scandal. On the night of Sunday, 28 May 2017, he assured the Students' Union President of University of Ibadan, Mr OjoAderemi, in a phone call that there will be casualties should the students go ahead with their plan to protest at the Iwo-Ojoo Road on 29 May 2017.
In the duo's first phone conversation, Mr Odude was reported to have said the Students' Union will "pick dead bodies" if it mobilises students to demonstrate. Mr Aderemi, however, called him again, at which time his words varied in no significantly. This second conversation, recorded by the Union President, lasted exactly one minute and twenty-four seconds.
"I am telling you in very clear terms and I want you to understand me. If you come out of that University of Ibadan tomorrow, I will deal with anybody that does that. If you want to protest, protest within your university. And if there is any damage to any government property, I will deal with you and I will be stern with you because you are the President of that union," he asserted in an unmistakable tone.
"So go and warn your students – if they like their lives, none of them should come out of that school because I am ready for you o! If they want to waste their lives, let them come out. If any student comes out in protest tomorrow and blocks any road, I will deal with him. Tell them that you spoke to the Commissioner of Police and that is what he told you. I am not joking. And I will be there by myself, not that I will deploy men," he further stated.
The puzzling statements from the Commissioner came immediately after a meeting between the Students' Union Executives and the University Administration. It was reported that he had earlier requested that the Union President come to his residence for an unknown reason. Mr Aderemi had then called to apologise for his inability to visit when the rude shock came.
It will be recalled that students of the University of Ibadan held a Congress on Saturday, 27 May 2017, where they resolved to protest poor welfare on campus and an overdue provision of student identification cards by demonstrating to media houses and at Iwo-Ojoo Road on the National Democracy Day.
en
SOURCE :The Nigerian Voice (local news)